By Ritesh Patil, co-founder, Mobisoft Infotech.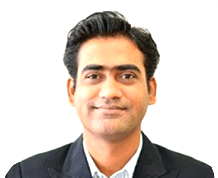 In the past few years, information technology has developed and now it becomes an integral part of the medical sphere. Currently, the innovation of wireless medicine is increasing rapidly and influencing the present healthcare industry.
In the year 2017, more than 3.5 billion individuals having tablets and mobile phones with access to healthcare applications, because apps are providing the various health-related solution to the patients instantly.
Future mHealth entrepreneurs or startups should consider the concept of multi-platform application development from their initial days if they want to achieve success in this medical sphere. Presently, more than 70 percent of mHealth app publishers pick both the Android platforms and iOS to deliver their app to medical care providers and patients.
The  healthcare mobile app development highlights significant possibilities to both entrepreneurs and startups. A financial specialist is willing to support the growing medical industry and they are ready to invest in this era. Also, numerous private care providers intend to adopt advanced applications on a massive scale to improve their practice workflow.
The Medical App Development Market
mHealth is continuously developing and people prefer to download and utilize mHealth applications frequently. This area is continuously developing at a rapid pace and, many people download and use mHealth apps, the IT industry utilizing these applications to understand more about the user behaviors, popular and unpopular app features, and beyond that. Today, this knowledge is being used to focus on healthcare mobile app development arena to make these apps more popular and user-friendly. Well, let's check the present state of the healthcare industry, with the professionals and organizations support.
Future Innovations of mHealth
We all know that many companies enter this growing space, so innovations are definitely to be occur. According to the current healthcare market scenario and the ongoing researches highlight some innovative future innovations of mHealth. In this article, we will discuss the future expectations of mHealth. These include:
Utilizing an application, a specialist will have the capacity to screen imperative signs and manifestations of patients.
Through this healthcare apps, a patient can send their ECG test report to the doctor. And the doctor can give important feedback instantly that will helpful for the patients.
Doctors can analyze moles on a patient's body to characterize whether they are dangerous.
Checking blood pressure, controlling weight and the levels of glucose, measuring pulse and reading the oxygen immersion. This kind of monitoring process will help to avoid the occurrence of diabetes and the heart failures.
Experts believe that coming days with the support of a little chip which can easily attachable in a mobile phone that help users to check their sexually transmitted infections result instantly.
A smartphone's camera will help the patent to complete visual acuity reading.
Monitoring lung function.
It will help to conduct heart electrophysiology.
These innovations will definitely reshape the healthcare industry. It will improve the patient health and also maintain a proper way of doctor and patient communication. As well as coming healthcare application development is increasing efficiency in the sector of healthcare. Undoubtedly, healthcare apps are effective, user-friendly, and profitable it can break all the geographical boundaries. This advanced features will incite the startups and entrepreneurs to enter or invest this his rapidly expanding marketplace.