Apr 4
2019
Innovaccer Launches AI-Assisted Solution To Address the Social Determinants of Health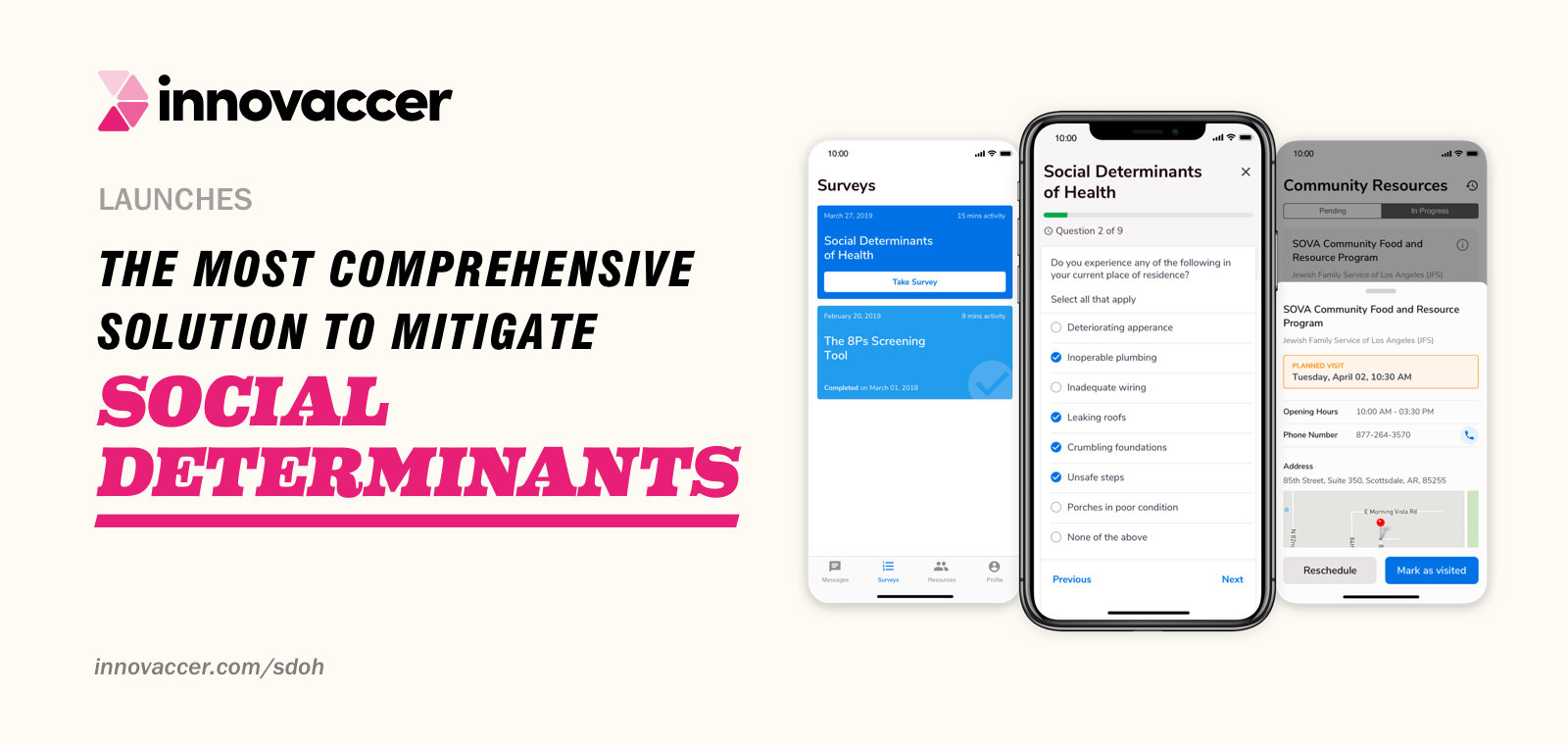 Non-clinical factors can account for up to 80 percent of the health outcomes for patients. Such factors, including socioeconomic conditions, healthy behaviors, and physical environment, may vary drastically for each patient and can significantly impact health outcomes such as poor medication adherence, frequent visits to the ED, and more. Thus, it is essential to consider these factors while creating care plans to ensure that the specific needs of patients are addressed.
Additionally, healthcare's transition to value-based care is pushing organizations to lead more efficient population health management programs that address every clinical and social need of the population in which they serve. The challenge, however, is that organizations don't usually have the means to capture the social needs of the patients or address them beyond the four walls of a hospital to ensure that no care gaps remain unplugged.
To help healthcare organizations gain richer insights into social determinants of health (SDOH), Innovaccer Inc. announces the launch of its SDOH Management solution tailored to capture SDOH data and leverage it to deliver enhanced care, powered by its Data Activation Platform.
Innovaccer offers to assist healthcare organizations in a stepwise approach, starting with surveys for patients to complete in order to evaluate their social needs, such as access to food, housing situations, or economic conditions. Additionally, Innovaccer's solution allows care teams to send as many surveys as needed with multiple language support. Based on the answers received from the survey, the solution helps care teams find suitable community resources to assign to the patient from a pre-built national database.
The solution's AI-assisted closed-loop referral process to community resources enables care teams to ensure patient-centric care, even after an encounter is over. This closed-loop referral process gives physicians and social workers complete visibility into the social needs of their patients, which allows them to refer their patients to the most relevant community resources. In fact, patients are also kept in the loop in such a way that they can track their referrals, give feedback, and coordinate with their providers at any time, all through a single mobile application.
Innovaccer's primary aim with this solution is to empower physicians and care teams with visibility into the social needs of their patients, right in the moment of care. The solution also triggers automated and real-time alerts to care teams if a patient's needs are found to be urgent, such as high social risk or missed follow up. Additionally, the insights from the survey are available to the physicians right at the point of care within their EHR workflows, ensuring that they have a holistic picture of their patients.
"For organizations under value-based contracts, establishing a culture of wellness is a priority to keep their business model financially viable. Social determinants of health are a gamechanger in this regard and organizations who leverage them put themselves in the driver's seat," said Abhinav Shashank, CEO at Innovaccer. "We hope that our solution is instrumental to healthcare organizations as they tie their efforts to address social determinants of health and create similar strategies to maximize care and cost outcomes."
Only recently, Innovaccer also launched its first-ever in-house research authored by Dr. David Nace, CMO at Innovaccer, around the social vulnerabilities of the population across the US. The research paper named "From Myth to Reality- Revolutionizing Healthcare with Augmented Intelligence and Social Determinants of Health" discusses a revolutionary way of leveraging advanced algorithms to determine the social vulnerability of the zip code-level population.
To learn more about Innovaccer's SDOH Management solution, click here.